Maywood expert snow removal services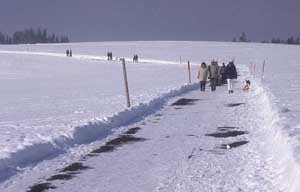 While falling snow is usually a magical sight to behold, it's an entirely different ballgame when it starts to accumulate on your driveway and front yard and forms a mountain of white that can cause travel problems and removal headaches. This is why snow removal services are one of the most sought after services come wintertime.
Some may choose to do the labor of removing snow by themselves, others, however, choose to keep their hands off this laborious matter and hire a contractor instead. But what exactly goes into choosing a snow removal service? Here are a few important things to consider when picking a company to provide you with snow removal service.
Nothing's worse than paying up front for a snow removal service and then getting stuck with a contractor that doesn't show up to do what you paid them for. In order to avoid getting into this predicament, it is wise to choose a snow removal company that is highly regarded and is considered trustworthy.
Getting a reliable snow removal contractor would entail more than just picking up the yellow pages and randomly picking a company. In print, these businesses all seem to be the same, so go the extra mile. Talk to friends and family members, relatives and associates and ask for recommendations on good snow removal service. Chances are, you're going to get a consensus on a few companies, and their testimonies would be reliable especially if they themselves have experienced availing of these companies' services and were satisfied with the results.
We are your trained professional experts in the snow removal field that can handle whatever snow related issues you have! Call us tooday!
If you are looking for Maywood, IL Snow Plowing for your business, please call 773-763-7600 or complete our request estimate form.