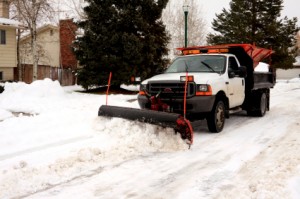 Chicago Snow plowing services are wonderful for winter landscaping and care while also providing you with the time to enjoy other things besides tough work in bitter cold winds and getting exhausted from continuous heavy lifting.
Snow plowing services certainly take a chore away that many are more than happy to hand off, but there are other great reasons to hire professionals to take care of snow plowing throughout the season.
Saves Headaches and Injuries
Manually shovelling snow, especially heavy wet snow is one of the easiest ways to get injured during the winter season. Many people don't stretch properly before heading out into the cold and the majority of business owners use standard shovels that are improper lengths and require awkward bending and lifting that are ideal for straining the back.
Other problems are the times that shovelling is required. A great feature of hiring Chicago snow plowing services is the fact that they will arrive when you like and get to work when you need it. You won't have to fuss or worry about anything except what you will do with your new free time.
Avoid Accidental Damage
The problem with large amounts of snow covering your entire property and surrounding property is the fact that many things are hidden, which could lead to accidental damage or even more serious problems like hitting a water pipe or hydrant.
Whether you use a standard shovel or a snow blower, there is always a danger of accidentally hitting some obstruction that may be hidden under the snow. With professional Chicago snow plowing companies, they are well trained to handle heavy snow build up and plow without causing any damage to your or city property.
To avoid getting into such a frightening and unnecessary situation, it's easy to just use professional snow plowing companies to get things done quickly and properly.
Great Presentation
For anyone wanting to have a nicely manicured look for the holidays, there are wonderful snow plowing services that provide a clean and professionally cared for property for the best presentation for the season.
Great for Commercial Areas
Ideal for virtually any type of property, snow plowing services for commercial areas. Depending on the size of the job or the needs of their customers, there are many great companies that can perfectly accommodate for the job that needs to be done. From driveways, large parking lots or the surrounding area of commercial properties, properly plowing the snow will ensure a safe environment and give each area great presentation.
Whether it's a last-minute call or a regular schedule job throughout the season, the name and number of a great Chicago snow plowing service should always be kept by the phone because you just never know when it will come in handy.
If you are looking for 5 Reasons to Get Chicago Snow Plowing Services for your business, please call 773-763-7600 or complete our request estimate form.