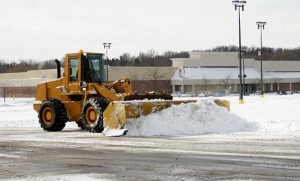 If there is one thing Chicago business or commercial property owners know, it is snow. So the next thing it helps to know is Chicago snow removal. Whether you own a business in this area, you need to be able to address the need for snow remediation.
The sooner you start planning for how to deal with it now, the better plan of action you will have in place once the snow starts falling. The best choices you can make involve letting someone else handle the job for you.
Commercial Chicago Snow Removal
There are two driving forces behind making sure that you address the need for snow removal, if you own a business. For one thing, you want to be able to remain accessible to your customers. Unless it's blizzard conditions, you want to be able to stay open for business, as long as possible.
More than likely, if you are closed you can rest assured it will be your competition that is getting all the business. The other great concern is that you are responsible for keeping your commercial building safe, inside and out. This includes parking lots, sidewalks and walkways.
If someone trips and falls, it is you who will be liable for damages and compensation. Some reasons you are going to want to let an industry expert handle snow remediation for you include:
They already have the right equipment. Not only do you not have the heavy-duty industrial equipment needed to get this type of job done, it would be too expensive to buy. The bottom line is that it is more cost-effective to let a professional handle the job.
Safety is another important factor. Getting snow removal taken care of protects your customers and employees. Yet letting a professional handle the job also protects your safety because you don't have to attempt to execute the task.
It is also great to let someone handle your snow clearing because you will have peace of mind. Simply knowing that, once the snow starts to come down, that you will have a professional there to rectify the situation makes all the difference. Focus on your business and life while the pros handle the rest.
Calling in the Snow Removal Experts
All Ways Paving & Plowing is your number one local Chicago snow removal resource for a variety of important jobs, including snow plowing. Our greatest concern is your safety, which is why we want to be able to address the problem for you. Give us a call today and let's get your snow removal service set up.
If you are looking for Top Reasons You Will Love Our Snow Plowing Services for your business, please call 773-763-7600 or complete our request estimate form.