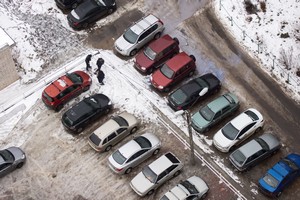 Chicago is known for winter weather; it's something we do here and do well. As majestic as fresh fallen snow may appear, the headache that comes with the cleanup is what makes this aspect of cold weather less than fun to deal with.
Yet, far too many commercial business owners either attempt to address this task on their own or, even worse, simply ignore it. Savvy entrepreneurs know to have a plan of action in place for snow and ice season. Otherwise, you are going to end up with a mess on your hands and no real way to take care of it, in a prompt and professional manner.
Protect Your Business, Protect Yourself
At the sign of the first flake of snow, the thing that kids are immediately thinking about is missing school and playing outside. As adults, the first thought is about taking care of snow removal. Yet, it is important to understand the difference between DIY and hiring a pro.
It should come as no real surprise that so many snow removal injuries result each year from business owners attempting to turn a serious winter cleanup into a DIY project. The most commonly reported snow removal related injury is with soft tissues, such as sprains, abrasions and strains. In fact, over half of the injuries resulting from tasks like snow shoveling, were the result of this type of problem. Avoid this, as well as lower back problems, and the potential for overexertion that can lead to a heart attack. Hire a professional and eliminate the threat risk.
Just because you should not be doing it does not mean this task should go ignored. Failing to clear away road ways, parking lots and walkways means taking a huge risk with your business. You either lose business from customers who cannot access your location, or you take the risk of someone injuring themselves. Neither of those should be an option to consider.
If you don't provide service for your customers, someone else will. Just because it is snowing does not mean the world is put on hold. Your clients still need what you provide, and if you are not accessible or open, the competition gets your business. That may not sound like a big deal for one day, except what if those customers don't bother to come back? Are you willing to lose what was otherwise a brand loyal customer over some snow cleanup?
Start Planning Now!
Fall is the perfect time of year to start making arrangements for winter weather. That means reaching out to our experts here at All Ways Plowing, for the best in snow removal services including salting. We understand the importance of winter cleanup and promise to provide you with the quality service that you need, in order to make it easier for you to focus on your business.
If you are looking for Why You Need to Invest in Commercial Snow Removal Services for your business, please call 773-763-7600 or complete our request estimate form.